Bulgaria and Romania:
Black Sea Coast
31st Jan - 3rd February 2011
Red-breasted Geese
I'd been to Bulgaria with Howard Broughton for the autumn migration in 2009 and vowed to come back for the Red Breasted Geese in the winter. Joining us were John Revill and Gordon Ellis.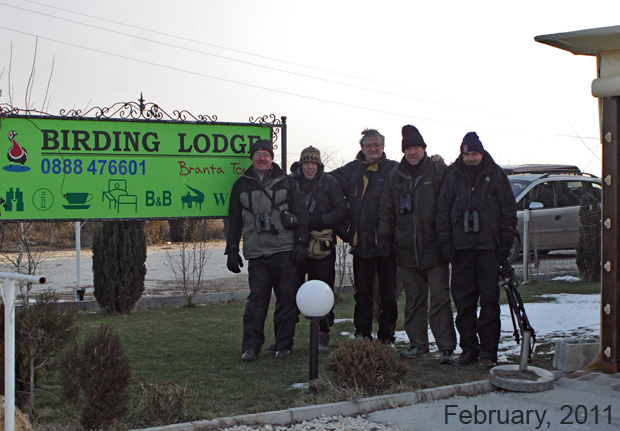 from right to left: Gordon, Chris, Pavel, Howard, and John

The Geese were spectacular and are becoming increasingly rare with a world population estimate of just 20,000, down very significantly on previous years and they all winter in the Coastal Dobrudja of Bulgaria and Romania. It wasn´t though just a "one bird trip" as we had eleven species of Raptor, six species of Woodpecker, wonderful views of Eagle and Long-eared Owl and perhaps the highlight, a full summer plumaged Pallas Gull close to its newly discovered breeding area on the Danube Delta in Romania. We flew into Varna from Luton with Wizz Air and were met by our guide and host Pavel Simeonov (Branta-Tours) who took us on the 100km journey to the Branta Birding Lodge & Conservation Centre overlooking Lake Durankulak.

Day 1;Sun. 31 Jan. Up at first light around seven, it was very cold but there was little snow and straightaway we could see flocks of geese moving from their roosts on the sea coming inland to feed. Before breakfast we had several raptor sightings from the Lodge with a Merlin, a fine male Hen Harrier, White–tailed Eagle and both Rough-legged and Common Buzzard.

Driving to the beach we came across our first flocks of feeding geese mostly Greater Whitefronts with a scattering of Redbreasts. They were very nervous as the hunting season had only ended the day before, stay in the car and you were fine as soon as you tried to get out they were away. Even at 800 metres they were fully aware of your presence. On the road to the beach we had a Great Grey Shrike but the reed beds were mostly frozen with very little open water so the few water birds were mainly on the sea. We picked up our only Red Breasted Mergansers of the trip along with Black-necked Grebe and Red Crested Pochard. Driving inland we encountered flocks of geese in the fields and eventually found large numbers of Redbreasts mixed with perhaps 4,000 Whitefronts giving very good scope views. Over the three days we did try to check for Lessers but the wind, the cold and the distance did make this almost impossible. They are undoubtedly around but tough to pick up.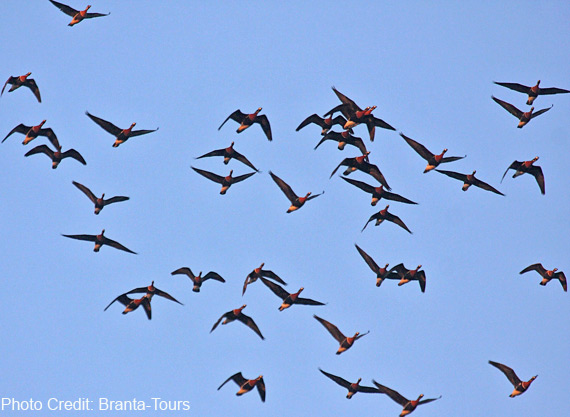 Red-breasted Geese

Heading south we stopped at a village roost for Long-eared Owls with nine in very low conifers, the villagers were very proud of them and showed us other roosting sites. A nice Hawfinch and the ubiquitous Syrian Woodpecker added to the enjoyment. A drive around the back of Lake Durankulak gave us a very close encounter with three White-tailed Sea Eagles including a fine Adult. On the partially frozen lake we were pleased to find a breeding plumaged Dalmatian Pelican, this hadn´t been expected as in the cold snap most had gone down to Bourgas.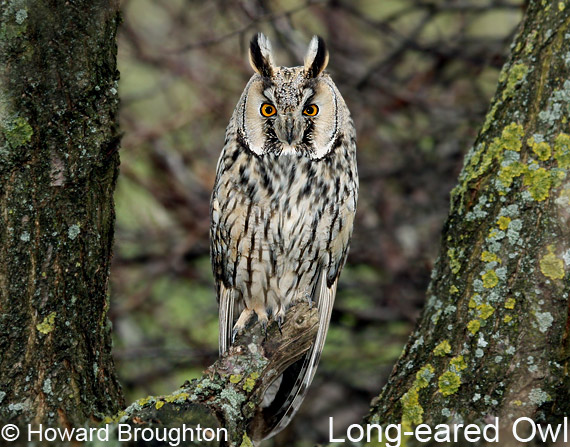 Long-eared Owl

Then the drive through endless wind farms to Cape Kaliakra, hoping for Calandra Lark which is in large flocks at this time of year. The reliable site was disturbed by dog walkers so no luck, even in Bulgaria they have this problem! The Cape just had large numbers of Black-necked Grebes, Cormorants and Shags. As dusk approached we moved slightly inland to the Bolata Gorge and waited in the cold for the hoped for Eagle Owl. A Sparrowhawk took a starling in flight right in front of us and then on to the cliff top flew a calling Eagle Owl, a wonderful sight with the presumed female picked up by Gordon close by. A great first day capped off with the wonderful food and hospitality at the Branta Birding Lodge.

Day 2; Mon. 1 Feb. We again spent the day in the Durankulak area retracing our steps and just enjoying the wonderful views of Geese, Owls, Raptors and the majestic reed-beds. We added Bearded Tits, Little Gull, some more wildfowl and then discovered two Shore Larks in a ploughed field, good birds for the region. After another fine meal of local fish we planned our trip to Romania for the following day over a few glasses of local Rakia!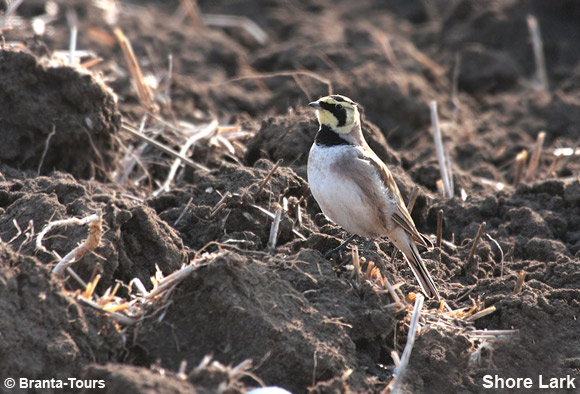 A winter plumage Shore Lark (Eremophila alpestris flava) originated from north Europe
Day 3; Tue. 2 Feb. Crossing the Romanian border just 6km from the lodge we made good progress on great roads, picking up Pygmy Cormorant in a small smelly pool just south of Constanta. Pallas´s Gull has just been discovered breeding in the southern part of the Danube Delta some 120km from our Lodge and with reliable information we hoped some may just be hanging around. Passing the famous coastal lagoons, which we´d check out on our way back we arrived at our destination and almost immediately found a distant flying summer plumaged adult (see photo). As we walked through the reed beds a first winter bird flew over and we thought we´d scared the adult away, but then some 100 metres away it was there on the lake giving great views of a truly magnificent gull. Buoyed up by this exciting find we debated another 120km trip north for the only known wintering Spotted Eagle in the region but demurred and decided to save it for another trip.
An adult Pallas´s Gull

Working our way back most of the water was frozen but raptors abounded and we had sensational views of Long-legged and Rough-legged Buzzards along with many, many Hen and Marsh Harriers. We scanned and hoped for Saker, which does winter here but with no success just a tantalising glimpse of an unidentifiable large falcon. Roadside fields had large numbers of Whooper Swans with a couple of Bewicks and flyover Caspian Gulls.